Terranova
Terranova Livestream this Weekend! And More...
---
To those who have downloaded the alpha version of our game... thank you! We have had over 100 downloads of the alpha version of Terranova, and we're simultaneously floored and honored to have so many people interested in this little game about roleplay. To those who have already given constructive critique in our Discord, a HUGE HUGE thank you to you. For those who haven't our door is open!

Three important announcements—we're livestreaming a playthrough this weekend, we're looking for LGBTQIA+ artists to contribute to Terranova (this is paid work) and we have a list of currently known bugs just in case you encounter them in-game.
So let's get started!
Terranova Alpha Livestream on Twitch 😎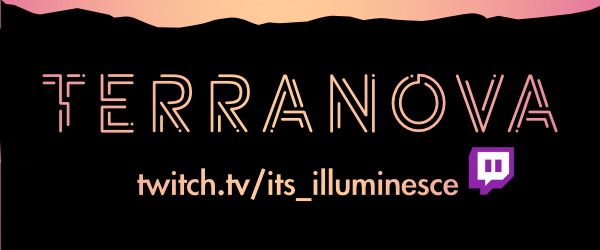 On Friday, May 15th we'll be livestreaming a playthrough of the alpha version. We'll talk about building the game and give you a chance to experience Terranova if you haven't already. We'll be providing, to the best of our ability, witty commentary.**
Livestream time is:
Friday, May 15th:
[PST] 6PM~8PM
[CST] 8PM~10PM
[EST] 9PM~11PM
Saturday, May 16th:
** DISCLAIMER: Depending on how much caffeine either of us have, the commentary may or may not be witty.
Calling LGBTQIA+ Anime/Fandom Artists 💜

The current build of Terranova still has placeholder original/fanart of some popular titles from the 90's. While this is nostalgic, some of these pieces are uncredited and unlicensed, and so we're looking for artists to provide us with 90's anime-esque desktop backgrounds and Limejournal icons for all our characters. Since this is a game adjacent to LGBTQIA+ culture, we're looking for artists who identify as this to help contribute!
The work is paid, i.e. if you have pre-existing fanart we use, we'll pay you a commercial licensing fee. If we commission you for original pieces, then we'll pay the commission fee + a commercial licensing fee.
Please contact CJ on the Terranova Discord or on Twitter if you're interested!
Bugs 🐛
Known issues & workarounds
Because this is an alpha release, it's still a little...buggy. Thank you to people who have already given us feedback on bugs in the game! These are the current issues that we know of and their workarounds. We're currently working on fixing on these. These don't happen all the time, but if they do, you can try the solutions below to continue playing.
Windows continue moving after you release your mouse (on drag). This results in a window that "sticks" to your mouse.

Workaround: Close the application and re-open

The browser crashes after you restore the window from being minimized.

Workaround: Press the "Home" button on the browser and it should restore

The icon picker doesn't respond

Workaround: Click again and you should be able to select icons
Fixed issues
These bugs are fixed in the latest release.
Browser crashing after you post to your personal Limejournal

Thank you again for your support and we're working on the next release of Terranova! Stay tuned, and we'll see you next Monday night JST.

Your friendly devs,
CJ & Matt