Terranova
Doing the Homework: Research for Terranova
---
Hello from your friendly dev, CJ!
You might have wondered where last week's update went. As I have a full-time job, I typically work on Terranova in the evenings and weekends. We're working towards a beta release and to free up one evening a week to work on the game, we've switched our update schedule from every week to every other week on Monday.
For the latest updates and to say hello please join our Discord! We like it when people say hi.
Today, we'll be talking about research.
Terranova is based in the early 00's and is about roleplay culture, particularly on blogs and message boards such as LiveJournal, Xanga and the like. Typically, two or more people would participate in this "roleplay" where you played a character, either from a pre-existing work, or an original character (OC). You'd write stories together, each person taking turns.
I participated in this fan culture back in the early 00's, and happened to save a lot of old roleplay logs from instant messenger chats and forum boards. Much of Terranova's writing is inspired by these logs. I read over them often.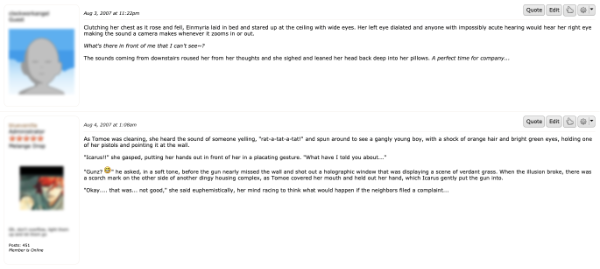 One of the things I find particularly moving about these chats are how we'd weave very personal conversations as side threads at the same time we were writing. In this pre-roleplay log, I'm talking about a real incident where my friends and I went to a late-night karaoke place to sing for fun. Some guys sat with us without asking. They dropped hints that they'd like to take us home despite us refusing multiple times. We were sixteen at the time and we said so. They said they didn't care.

I was the kid in high school who was chipper and was reluctant to talk about negative things, so even being able to mention this offhandedly was such a gift. Someone I cared about acting protective right after I experienced something troubling validated my experiences and calmed me. These were the sorts of stories we wanted to bring to Terranova—the instant messenger box being a place of retreat and solace.
Terranova's story follows four teens—Tourmaline, Cherry, Sendaria and EphemeralSmile, each of whom I've written a bit about. Each of them has their own personality, their own victories and struggles that you'll discover as the story progresses. Tourmaline is the player, but also contains pieces of myself.

Sendaria is a well-to-do kid going to high school in Japan, completely obsessed with shojo anime. I unfortunately was not huge into shojo nor was I as outgoing as Sendaria is, so over June and July, Matt and I will be doing...a bit of method acting. You'll have to wait for the next devlog update to hear more about that, though. ;)
For Cherry and EphemeralSmile, I wanted to move outside of my own white viewpoint to write, and for that I am eternally grateful for the fine folks who have generously offered their personal experiences. Cherry is a Puerto Rican who grew up in New York, and our good friend León contributed massively with his own stories growing up Puerto Rican in America. Thank you so much.
EphemeralSmile is a black cosplayer and lolita fan, and in researching the intersection of blackness and fandom I've recently been very moved by linakittylee's confession of "black geek girl struggles" on YouTube. Thank you for sharing something so personal.
Though these are more recent papers, scholars have been examining the intersection of race and fandom such as Rukmini Pande, Bertha Chin and Lori Hitchcock Morimoto. I'm also grateful to them for perspectives on the current fandom when it comes to race. It helps me trace back some of the racist ideas the fandom has had and how it relates to BIPOC fans in the early 00's.
I'm hungry to get my hands on more references, so if you are BIPOC and have resources to share especially about fandom in the early 00's, please let me know. I'd love to read them.
This has been a process of self-introspection as well as outward discovery—and I'm really excited to write these characters. They're all very dear to my heart.
I hope they will be dear to you, in time.
Til next time,
CJ